10.28.2022
TSP Smart Spaces Wins Twice at the 2022 PRISM Awards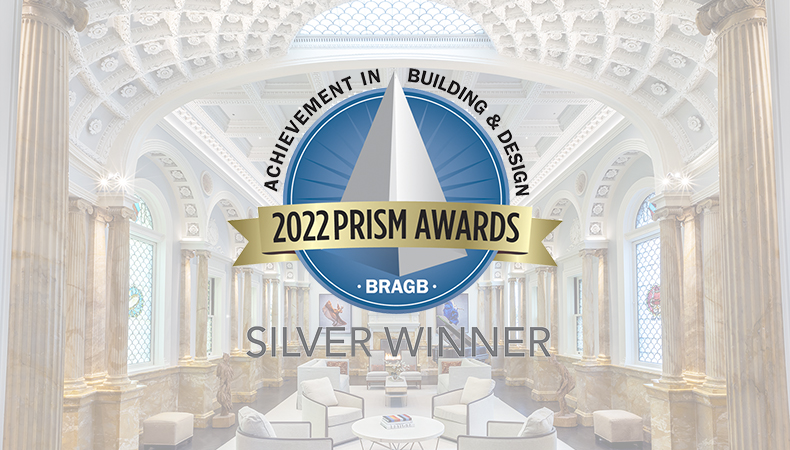 We are honored to have won two awards for the third year in a row at the BRAGB 2022 PRISM Awards! The 2022 Awards are something we look forward to every year, not just for possible award wins, but to see what the rest of the Boston design and build community are up to! The PRISM Awards are hosted yearly by the Builder and Remodelers Association of Greater Boston (BRAGB), and serve to recognize the very best in the greater Boston area. This year, TSP Smart Spaces won two silver medals: one for our Illuminating History project and another for our Boston Design Week events. This year, Chase Rowe and Rhiannon Hayes attended the Gala at the Boston Museum of Science, something Chase described as "a great opportunity for industries to come together and acknowledge the year's highlights of their friends and even competitors. It was nice to take off the coveralls and put on a suit."
---
Best Use of Smart Home Technology – 2022 PRISM Award Silver
Built in 1883 and designed by the prestigious architects Rotch & Tilden, this historic home in Boston's Back Bay is an authentic timepiece of the late 19th century. While we had the chance to bring smart technology to all 15,000 feet of the home, the part of the project that shines brightest is the home's music room.
What began as a beautiful but largely unusable space was transformed into the perfect entertainment space. Through smart lighting and invisible audio, we were able to preserve and honor this music room's heritage and details while modernizing it for the 2020s and beyond. Most importantly, we built all of this upon a smart home foundation that can scale easily for the future.
---
Best Marketing Event
On May 5th, 2022, TSP Smart Spaces opened our new Experience Lab to the public, hosting various events, including two educational CEU presentations, a Smart Home Expo, and a panel discussion that brought together the best in the Boston design community. Not content with a simple "showroom opening" event, we aimed to bring the Smart Home experience to as many audiences as possible in one day.
The day concluded with an exciting panel discussion on the impact of art and technology on health and happiness in the built environment. Moderated by our own Adam Fisk, this hour long discussion included award-winning muralist Silvia Lopez Chavez, Emily Isenberg of Isenberg Projects, Coldwell Banker Global Luxury Ambassador Ricardo Rodriguez, Vice President of Boston Global Investors John Hynes IV, and our own President, Michael Oh.
Inspired by what you see here and want to bring this technology into your own home? Learn more about our smart home automation and residential services. Contact us today to begin your smart home journey!
---
---