09.15.2023
TSP Wins at the CE Pro HOTY Awards in 2023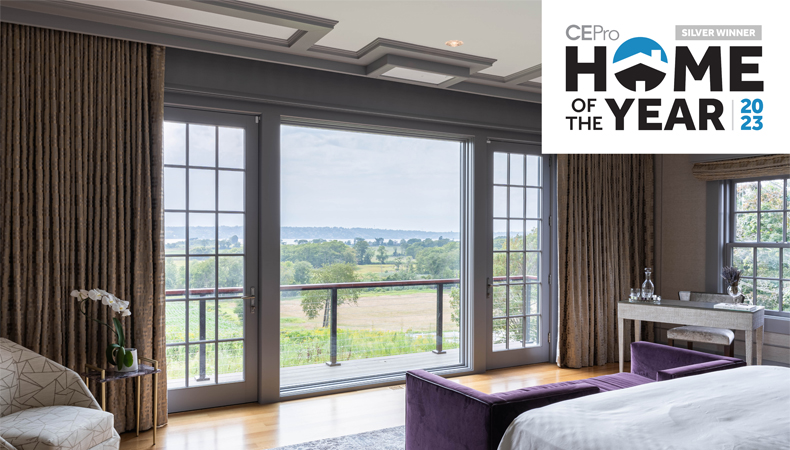 For a third year in a row, TSP Smart Spaces has won at the CE Pro HOTY 2023 Awards! Our recently finished primary suite, Cinema With a View, won a Best Master Suite Silver award.
The comprehensiveness of the smart home solutions installed and how seamlessly they work with each other without compromising the design makes this primary suite stand out as particularly unique. In the master bedroom, scene control is done at the touch of a button. It allows the homeowner to adjust or check lighting, temperature, AV, and security from a Lutron SeeTouch keypad or smart phone, thanks to integration with a Lutron HomeWorks QS system integrated into a larger Savant system. The projector and screen are unique to a typical master bedroom, and were a solution that maintained the beautiful view and didn't interfere with the custom Lutron drapery and roller shades. 
Best Master Suite – CEPro HOTY Award Silver
Cinema with a View
The past year, we've been lucky enough to work on this exciting project in Tiverton, Rhode Island. Designed by Tim Reid and our own Aaron Stallings, this luxury home features sweeping views, plenty of windows, a robust smart home system, and utilizes lighting to great effect. These features are most on display in the home's master bedroom. The master bedroom features Italian crystal downlighting from Leucos, custom Lutron drapery and roller shades, and a private cinema experience reminiscent of old-school movie theaters. Everything in the room can be controlled via Lutron SeeTouch keypads, allowing the homeowners to select from preset scenes designed to highlight the unique design of the space. 
Due to the design of the room and the abundance of windows, we took a unique approach to the AV in the room, installing a short-throw projector designed to be nearly hidden in the ceiling, installing Sonance Architectural speakers, as well as a projector screen with blackout shades. Thanks to the simplicity of control, the homeowners can switch between open windows, highlighting the view to an immersive cinematic experience at the touch of a button.
About CE Pro
CE Pro is the leading media source for custom installers in the residential market. These professionals design, install and service the connected-home. This includes audio, video, security, home automation, lighting controls, motorized shades, energy management, home networks and related systems.
Learn more about our residential services and smart space automation! To learn more about the specific tech that made these possible, like Amina, Lutron, and Ketra, check out our technology partners page. Feeling inspired for your own smart home? Contact us today to get started!
---
---