10.24.2023
TSP Smart Spaces Wins Twice at the 2022 PRISM Awards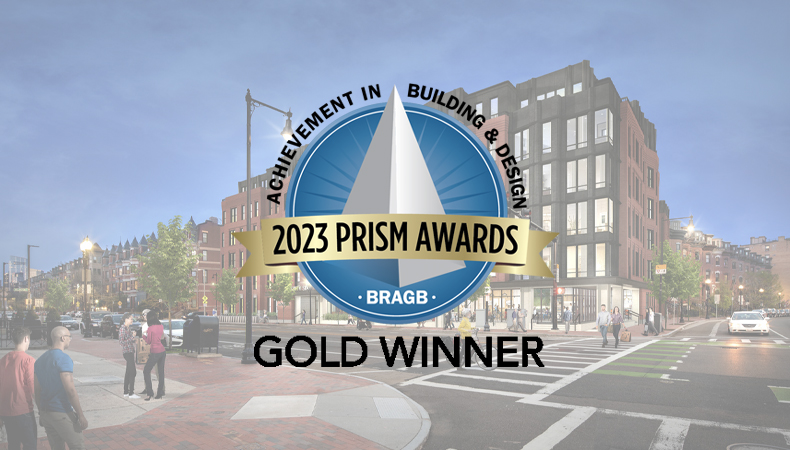 We are thrilled to have won twice fourth year in a row at the BRAGB 2023 PRISM Awards! The PRISM Awards Gala is something we look forward to every year, not just for possible award wins, but to see what the rest of the Boston design and build community is up to! The PRISM Awards are hosted yearly by the Builder and Remodelers Association of Greater Boston (BRAGB), and serve to recognize the very best in the greater Boston area. This year, TSP Smart Spaces won two awards: Gold for our collaborative efforts at the Residences at 566 Columbus and Silver for our Lutron award-winning showroom, The Experience Lab. This year, Hector Lopez, Nathan Smith, and Rhiannon Hayes attended the Gala at the Boston Museum of Science, something Nathan described as "a great chance to connect with others in our industry and see some of the most stunning projects happening in the Boston area."
---
Best Use of Smart Home Technology – 2023 PRISM Award Gold
Residences at 566 Columbus
The new residences at 566 Columbus Ave aim to set a new standard for luxury living in downtown Boston. Sleek finishes and modern design features highlight the 66 new luxury condominiums, featuring top-of-the-line amenities such as an outdoor fitness center, rooftop lounge with gas fireplace, touchless elevators, and garage spaces with electric car charging stations. When award-winning real estate broker (and long-time friend of TSP) Ricardo Rodriguez brought this project to us, we knew we had an opportunity to replicate our award-winning MDU success achieved at Austurhofn in Reykjavik, Iceland.  
Special thanks to our partners on this project: New Boston Ventures, J. Garland Enterprises, Wolf in Sheep Design, Ricardo Rodriguez and Associates
---
Best Showroom
The TSP Smart Spaces Experience Lab re-envisions the showroom as space to demonstrate comfort, entertainment, security, and productivity. Our newly-renovated 3,700-square-foot space starts with robust and secure infrastructure from Cisco Meraki, designed and built by Tech Superpowers, our 30-year-old sister company that shares the space.
On top of this foundation, Lutron Homeworks QSX, Ketra Lighting, and Lutron Sivoia and Palladiom window treatments are utilized throughout our entire showroom, allowing us to showcase the complete set of Lutron solutions for anyone who walks through our doors. Other solutions in the space include 2N access control, Meraki security cameras, Biamp and Shure commercial AV, and residential AV from LG, Sonance, Amina, Artcoustic, and K-Array. As an example of technology integration, varying audio technologies are used throughout, allowing you to see and hear the differences between exposed, architectural, and invisible speakers.
The pinnacle of the Experience Lab is our Secret Cinema, a 12' x 14' space that transforms from a media room to private cinema to the ultimate collaboration space with one tap. Together, these spaces create a working office for our hybrid workforce and an educational experience for our clients, the design community, and project partners.
Inspired by what you see here and want to bring this technology into your own home? Learn more about our smart home automation and residential services. Contact us today to begin your smart home journey!
---
---