09.15.2023
Three in a row! TSP Wins at the 2023 Lutron Excellence Awards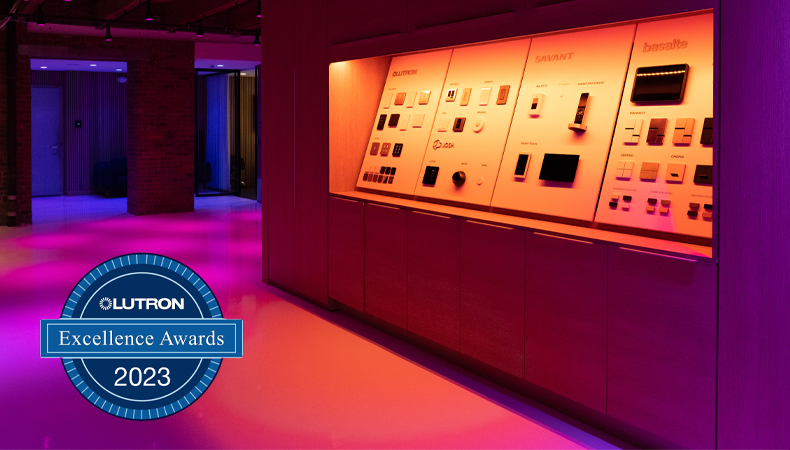 We are beyond honored to be recognized for the third year in a row with a Lutron Excellence Award.
Celebrating its 21st year, the Lutron Excellence Awards program acknowledges outstanding projects utilizing Lutron lighting and shading control solutions. These encompass an array of cutting-edge systems, such as HomeWorks, RadioRA 2, RA2 Select, and RadioRA3 lighting control systems, along with the Palladiom, Sivoia QS, and Triathlon shading systems, not to mention Ketra intelligent lighting systems. Our distinguished showroom, known as The Experience Lab, clinched the award for Best Showroom. This remarkable achievement owes credit to the collaborative efforts of our talented design team, including Aaron Stallings, Director of Smart Spaces, Kjerstin Oh, Director of Marketing, and Darin Bond of A.S.R.
About this space:
When we began designing our new combined office and showroom in 2021, we knew that it would need to be something beyond the traditional product-focused showroom. We needed to create more immersive experiences for our clients and partners that would get them to experience how smart home technology could improve their lives.
The TSP Smart Spaces Experience Lab re-envisions the showroom as space to demonstrate comfort, entertainment, security, and productivity. Our newly-renovated 3,700-square-foot space starts with robust and secure infrastructure from Cisco Meraki, designed and built by Tech Superpowers, our 30-year-old sister company that shares the space.
On top of this foundation, Lutron Homeworks QSX, Ketra Lighting, and Lutron Sivoia and Palladiom window treatments are utilized throughout our entire showroom, allowing us to showcase the complete set of Lutron solutions for anyone who walks through our doors. Other solutions in the space include 2N access control, Meraki security cameras, Biamp and Shure commercial AV, and residential AV from LG, Sonance, Amina, Artcoustic, and K-Array. As an example of technology integration, varying audio technologies are used throughout, allowing you to see and hear the differences between exposed, architectural, and invisible speakers.
The pinnacle of the Experience Lab is our Secret Cinema, a 12' x 14' space that transforms from a media room to private cinema to the ultimate collaboration space with one tap. Together, these spaces create a working office for our hybrid workforce and an educational experience for our clients, the design community, and project partners.