01.06.2021
Our Modern Masterpiece Featured in Essential Install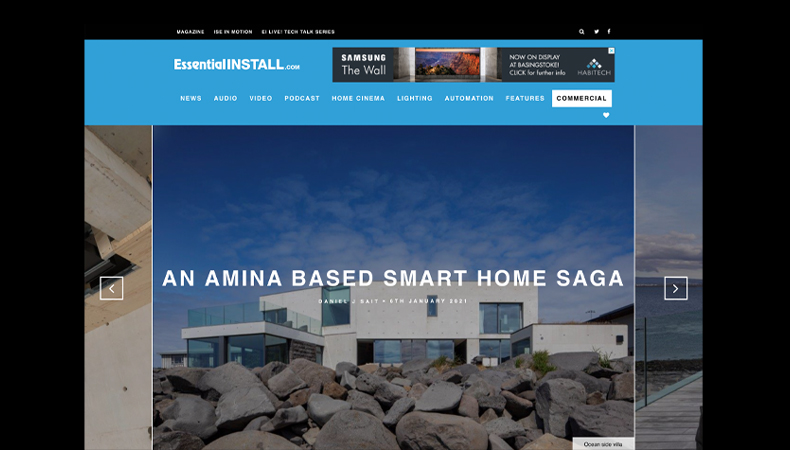 Essential Install delivers the very best in industry news, views, features, and facts for the Custom Install sector. The mix of a high-quality monthly magazine with a fast-reacting and far-reaching website and weekly newsletter means distributors, manufacturers, and service providers have access to every conceivable way of reaching their clients from one publishing house.
This Modern Masterpiece was designed and built with tremendous attention paid to every detail, with a particular focus on the interior of the home. It is outfitted with the finest furnishings and appointments, including over 20 motorized shades and custom draperies. Featuring floor-to-ceiling glass throughout much of the living space, the villa became something of a cocoon from the wild weather rolling in along the Icelandic coastline filled with smart home automation.
To accommodate the homeowner's desire for the cleanest look throughout the interior, the Nordic Smart Spaces team deployed 20 Amina Edge5 invisible loudspeakers complemented by five Amina ALF architectural subwoofers (four ALF120s and a single ALF80), creating a high-resolution, full-range entertainment system with zero impact on décor. The Edge5 speakers were used in the open-plan living space that includes a living room, dining room, and kitchen. They were also deployed in each of the bedrooms and the study to provide smart space automation for the whole home.
"Amina invisible speakers are a well-engineered, beautifully manufactured solution that is perfect for those clients who want a superior entertainment experience without any imposition on décor and interior design," Michael concludes.
---