06.01.2023
TSP Wins at the PRO NE Awards in 2023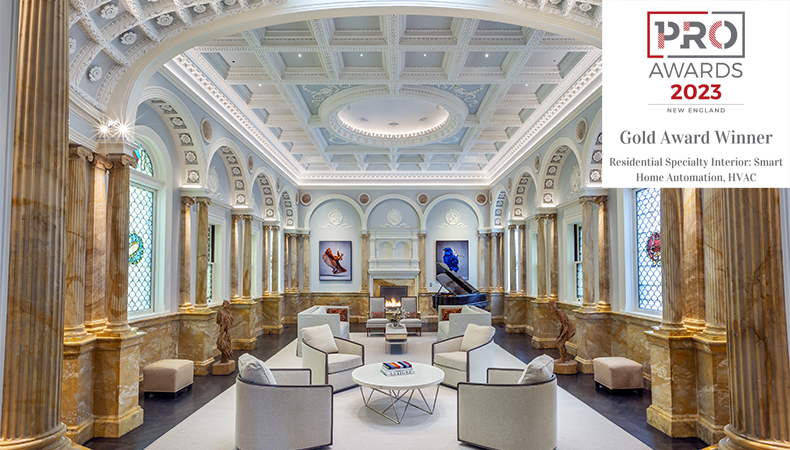 In our first year entering, we won Gold at the PRO NE Awards for 2023!
Our recently finished music room, Illuminating History took home the Gold Award for the Residential Specialty Interior category. What started as a beautiful but largely unusable space was transformed into the perfect entertainment space through smart lighting and invisible audio, all while preserving and honoring the heritage of the space. This project was chosen among 65 entries by a panel of professional but independent reviewers for its functionality, aesthetics, and craftsmanship displayed in the work. 
Residential Specialty Interior: Smart Home Automation – NE PRO Award GOLD
Illuminating History
Here are some of the 'before' images:
Built in 1883 and designed by the prestigious architects Rotch & Tilden, this historic home in Boston's Back Bay is an authentic piece of the late 19th century. While we brought smart technology to all 15,000 feet of the home, the part of the project that shines brightest is the home's music room. 
While our Director of Smart Spaces, Aaron Stallings, often creates or reworks lighting designs for our smart home projects, the demanding scope and historical significance of this space led us to take a collaborative approach with this project. Through the teamwork of us, Fourth Dimension Lighting Design, KVC Builders, Excel Carpentry, and Terry Rogers of Illuminate we transformed an already beautiful space into one with multi-layered lighting and a smart home ecosystem. 
About CE Pro
PRO New England is a non-profit membership association dedicated to advancing quality in the professional remodeling industry. Comprised of over 200 local companies representing nearly 1,000 area professionals, PRO New England is a recognized source for information about residential remodeling and local professionals.
Learn more about our residential services and smart space automation! To learn more about the specific tech that made these possible, like Amina, Lutron, and Ketra, check out our technology partners page. Feeling inspired for your own smart home? Contact us today to get started!
---
---