WiredScore and SmartScore, what you need to know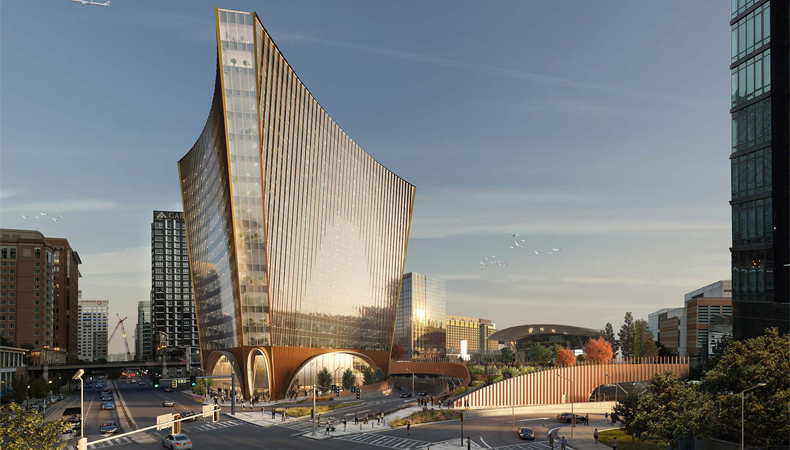 If you're in the process of creating or upgrading a commercial building, there are a few things your potential tenants are looking at. Price, square footage, amenities, and location are the obvious ones. But in today's ever-expanding digital world, digital connectivity is perhaps the most important. Your tenants need network connections that are strong, resilient, and secure. It's the key to not only bringing in new tenants, but retaining them once they're moved in. Thankfully, you're not on your own in accomplishing this.
WiredScore and SmartScore frameworks
This is where WiredScore and SmartScore come in. Created as standard frameworks that assess a building's technology capabilities, networking, and user experience, WiredScore and SmartScore are global standards that prove that a commercial building is ready to bring in and retain tenants. It helps prove that you, as a landlord and developer, put the experience of the tenants first.
With over eight million people working or living in WiredScore- or SmartScore-certified buildings and over 800 million square feet certified, these certifications have become increasingly prevalent in new buildings and a way for building owners to attract new tenants. But what is WiredScore, how does it differ from SmartScore, and what benefit does working with a WiredScore Accredited Professional like TSP Smart Spaces bring to your project?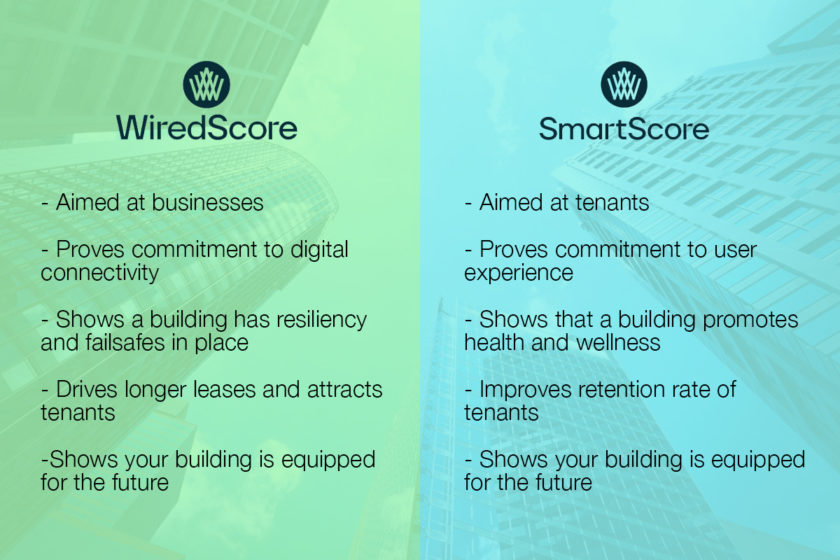 WiredScore
"Seamless connectivity shouldn't be an occasional luxury if you're lucky enough to stumble upon it. It should really be as dependable as the oxygen we breathe, given how foundational it is to everything we do." – Ari Barendrecht, Founder & CEO of WiredScore.
At its core, WiredScore is all about digital connectivity. And in today's internet-driven workplace, connectivity has become the most important thing to look for when searching for new headquarters. Whether you're a hedge fund that needs its own internal data center, or a biotech company that needs a fully connected lab, digital connectivity is crucial to your operations. You need a space that has fast and secure connections and is also resilient in case of a flood, or construction next door that might cut a fiber cable. With 70% of internet disruptions stemming from issues with a building's physical infrastructure, organizations need a way to ensure that they stay online with minimal disruptions to their workflows. 
We've all experienced poor cell phone connectivity in an office building – made worse by today's modern construction materials and techniques. But how will poor cellular connectivity impact dozens if not 100s of employees? When looking for new headquarters, you want questions around solid connectivity to be answered with certainty, not something you happen upon by pure luck.
Given all this, in 2013, New York's real estate, technology, and telecommunications leaders came together to develop WiredScore. WiredScore is a way to evaluate essential digital connectivity and certify that a building is equipped to keep businesses connected at all times. Today, it's the only industry-wide certification for potential tenants to know that a building will meet their daily technology needs.
The WiredScore certification process evaluates seven main categories of a building's digital capabilities, ranging from its ability to adapt to future technology to the overall quality of the user experience. It then awards one of four certifications (Certified, Silver, Gold, and Platinum) for adherence to the guidelines established by WiredScore. 
SmartScore
"Employees are expecting a seamless experience from the time they reach a parking garage all the way to the front lobbies, all the way to their office space. Being able to have that seamless experience is what we're striving for." –  Jesse Carrillo, Senior VP and CIO of Hines
Where WiredScore is aimed at the building and its infrastructure, SmartScore is aimed at the actual employees and the experience they have in their work building.
In today's post-pandemic world, buildings are no longer places where people are forced to come to work every day. With remote work very much the norm, offices must offer something that employees can't get in their own homes, and smart features are among those bringing employees back to the office. Created by the same people that made WiredScore, SmartScore serves a similar purpose: to give certifications to buildings that prove their commitment to the tenant experience. 
While any building can claim they are a "Smart Building," just like every home with a Nest Thermostat can claim they are a "Smart Home," SmartScore lays out a set of guidelines so that tenants know that the certification is based on a significantly better employee experience. This is shown through two main categories. This first is user functionality, which focuses on health & well-being, sustainability, safety & security, and productivity. The second is the technological foundation, which covers cybersecurity, building systems, and data sharing. 
Working with a WiredScore AP
Like most certification processes, WiredScore and SmartScore are checklists you go through. But the process is much more complicated and involved than simply checking off boxes on a list. It is a thorough and in-depth process that requires commitment from the whole team. A WiredScore Accredited Professional is a crucial part of that team that translates the WiredScore requirements into actionable and tangible steps. This ensures each step actually benefits the tenant, rather than just aiming to check a box. TSP Smart Spaces' ownMichael Oh is a WiredScore Accredited Professional and has helped lead the efforts in Boston's 10 World Trade project towards their goal of a Platinum SmartScore and WiredScore. 
"Both WiredScore and SmartScore solve for a key problem in the 'smart building' industry – a lack of standards around what really makes a building 'smart.' These frameworks create a common understanding for owners, operators, and tenants on how technology can be implemented, not just for technology's sake, but for the benefit of all stakeholders, and most importantly, the people working in the building." – Michael Oh, President of TSP Smart Spaces
10 World Trade
A recent opportunity at TSP Smart Spaces to put our WiredScore and SmartScore expertise into practice has been with the new building in the Seaport, 10 World Trade. The new building aims to be a revolutionary new space in a blossoming neighborhood of Boston thanks to a commitment to smart technology, tenant experience, and digital connectivity. 10 World Trade recently earned the SmartScore Platinum pre-certification, one of only 69 buildings in the world to earn the title.
This is thanks to a digital infrastructure that puts the tenant's experience first. The whole building is an interconnected and intelligent space. This includes water and air quality sensors behind the scenes, and tenants can use their phone to book fitness classes or call an elevator. And that's only the tip of the iceberg for how 10 World Trade is Read more about our work at 10 World Trade in our case study Iconic Tech Hub. 
"Employees want to be part of organizations that are committed to innovation and sustainability, and organizations that embrace smart buildings are better positioned to meet those goals. It's an excellent way for business leaders to reinforce to their employees that they share common values." – Molly Heath, Senior Managing Director at JLL on 10 World Trade's SmartScore certification
If you're looking to increase the attractiveness of your building to potential tenants and earn your own WiredScore or SmartScore certification, we can help you get there! Contact us today to get the conversation started. With more and more buildings earning these certifications, you don't want to be behind in what is becoming a global standard for commercial buildings.