10.04.2022
TSP Wins Twice at the CE Pro HOTY Awards in 2022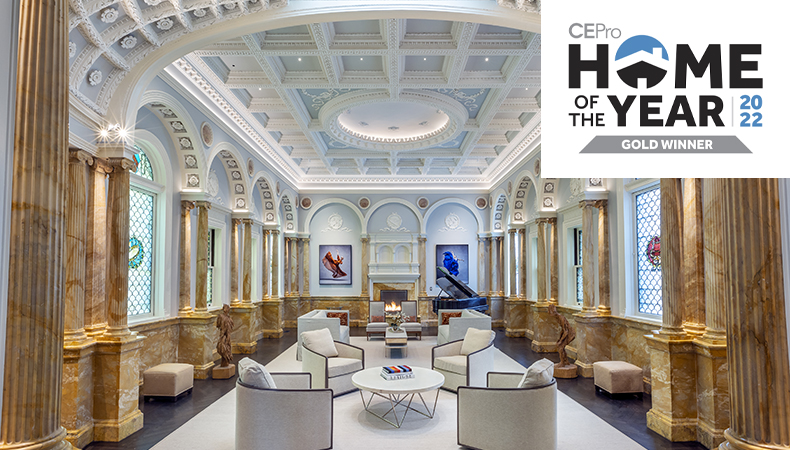 For the second year, TSP Smart Spaces has won twice at the CEPro HOTY Awards!
Our recently finished music room, Illuminating History won home the Best Before/After Retrofit Gold award. What started as a beautiful but largely unusable space was transformed into the perfect entertainment space through smart lighting and invisible audio, all while preserving and honoring the heritage of the space. 
We also won Gold for Best Showroom, the first national recognition for our brand new Experience Lab in the SoWa neighborhood. Open to tours for anyone curious (just contact us!), the Experience Lab aims to be more than a hub of the latest smart home technology. It showcases the experience home automation can bring to our lives firsthand.
"It was an honor and privilege to accept the awards on behalf of the entire TSP team and to be recognized by such an organization as CEPro. Everything we do at TSP truly is a collaborative effort. If it weren't for the hard work and dedication of everyone (TSP team, contractors, and designers) involved, this wouldn't have been possible." – Hector Lopez, Account Manager
Best Before/After Retrofit – CEPro HOTY Award GOLD
Illuminating History
Here are some of the 'before' images:
Built in 1883 and designed by the prestigious architects Rotch & Tilden, this historic home in Boston's Back Bay is an authentic piece of the late 19th century. While we brought smart technology to all 15,000 feet of the home, the part of the project that shines brightest is the home's music room. 
While our Director of Smart Spaces, Aaron Stallings, often creates or reworks lighting designs for our smart home projects, the demanding scope and historical significance of this space led us to take a collaborative approach with this project. Through the teamwork of us, Fourth Dimension Lighting Design, KVC Builders, Excel Carpentry, and Terry Rogers of Illuminate we transformed an already beautiful space into one with multi-layered lighting and a smart home ecosystem. 
Best Showroom – CEPro HOTY Award GOLD
The Experience Lab
Home automation is more than just the sum of the technology installed. Our product is the unique experience that all of these technology bring when they work together. When we set out to create our new Experience Lab, we wanted to bring this concept to life for all who walked through our doors. Our aim is to move away from the traditional product-focused showroom experience and create an immersive real-world experience.
We landed at 500 Harrison Avenue, just down the street from the historic Power Station. We renovated our new 3,700 square foot space over the course of six months. The result is a space that meets the needs of our staff. This includes private workspaces, conference rooms, storage, and informal meeting areas. We also created a welcoming environment for our clients, the design community, and project partners.
About CE Pro
CE Pro is the leading media source for custom installers in the residential market. These professionals design, install and service the connected-home. This includes audio, video, security, home automation, lighting controls, motorized shades, energy management, home networks and related systems.
Learn more about our residential services and smart space automation! To learn more about the specific tech that made these possible, like Amina, Lutron, and Ketra, check out our technology partners page. Feeling inspired for your own smart home? Contact us today to get started!
---
---