11.23.2020
Check us out in Residential Tech Today!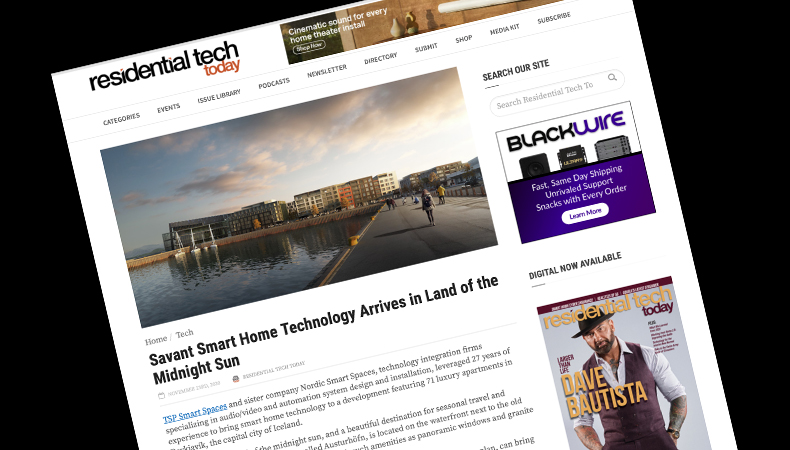 In this issue of ResTech they are featuring our Smart Home development 'Austurhöfn' in Iceland. Initially, we were brought onboard to differentiate the Austurhöfn residences from anything else out there. Ultimately, the goal was to offer a scalable smart home that could, in the end, meet the all the diverse needs of its residents. We designed systems that were affordable and occupied minimal space. We also had to create a narrative for the sales team and be easily serviced.
Residential Tech Today is a bi-monthly publication. This is the first in the space to combine the technology coverage and career education residential technology companies need with the products, big-name profiles, and DIY best practices consumers crave.
Residential Tech Today Excerpt:
TSP Smart Spaces and sister company Nordic Smart Spaces, technology integration firms specializing in audio/video and automation system design and installation, leveraged 27 years of experience to bring smart home technology to a development featuring 71 luxury apartments in Reykjavik, the capital city of Iceland.
Reykjavik is the land of the midnight sun, and a beautiful destination for seasonal travel and tourism. The apartment complex, called Austurhöfn, is located on the waterfront next to the old harbor. It features a stylish modern design with such amenities as panoramic windows and granite countertops.
Read the whole Residential Tech Today article here
---
---