09.01.2021
TSP Wins Two CE Pro Home of the Year Awards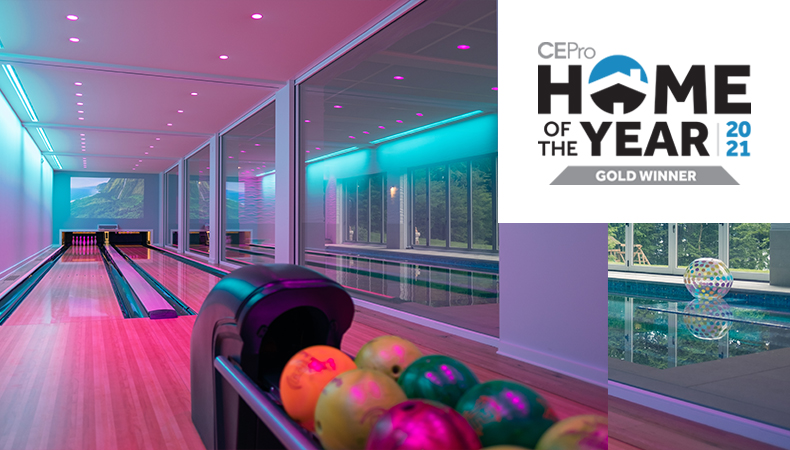 We're incredibly proud to have won two CE Pro Home of the Year 2021 awards!
Our recent project, Galactic Getaway took home the Best Strange & Specialty Area Silver award. The main home for this project took home the gold for the Best Integrated Security Project category. Judged on a project's creativity, innovation, equipment selection, obstacles overcome, aesthetics, and more, these awards represent a very prestigious honor in the home automation industry.  As always, this could not have been achieved without our amazing partners:
Architect – Shope Reno Wharton
Interior Designer – Manuel de Santaren
GC – KVC Builders
Bowling Alley – QuibicaAMF
"I always look forward to the Home of the Year awards because they showcase truly creative solutions for achieving technical innovation as well as eye-catching design." said Arlen Schweiger, executive editor of CE Pro. "Whether they're home theaters, whole-home projects, specialty applications or other types of installs, the work highlighted in this year's awards program exemplifies the technical craftsmanship and creativity this industry has to offer. We're proud to honor these companies."
Best Integrated Security Project – CE Pro HOTY Award GOLD
Lakeside Cybersecurity and Physical Security
The indoor bowling alley and pool certainly steal the scene from a visual perspective. But the robust security system installed throughout the property is the real standout. All tied together under a single ecosystem, the homeowner has the ability to keep an eye on every part of his property, inside and out, permitting and denying access on a per-room basis all from a single application on his phone. 
A license plate reader at the garage entrance highlights the security system for the main house. This allows the homeowner access to his garage without effort when returning home. In the bowling alley and pool area, sensors are installed to alert the homeowner to any unforeseen disturbances. This includes motion in the bowling alley, pool water being splashed, or glass being shattered.
Best Strange & Specialty Area – CE Pro HOTY Award SILVER
Lakefront Galactic Getaway
Overlooking a lake in New Hampshire sits a beautiful vacation home with a new addition that features a bowling alley, indoor pool, and a paddle tennis court. From the beginning of the project, we realized that this was going to be a rare opportunity to create a space where we could curate elements that would be front and center to the entertainment experience, yet blend beautifully with the vision of the space.
To make this addition work as a hub of family entertainment, we took the vision of the interior designer and conceptualized a space where technology would be both visible and invisible, depending on its function. It features stunning lighting scenes from Ketra, invisible speaker solutions from Amina, and custom shades from Lutron. This entertainment complex creates a visually and functionally seamless technology experience of which most people could previously only dream.
About CE Pro
CE Pro is the leading media source for custom installers in the residential market. These professionals design, install and service the connected-home. This includes audio, video, security, home automation, lighting controls, motorized shades, energy management, home networks and related systems.
Want to bring similar technology to your home? Visit our residential smart home page to learn more! To learn more about Amina, Ketra, and all of our technology partners throughout this project, visit our smart home partners page. Contact us today to get started!
---
---