Residential Speakers: A Guide to Audio in Your Home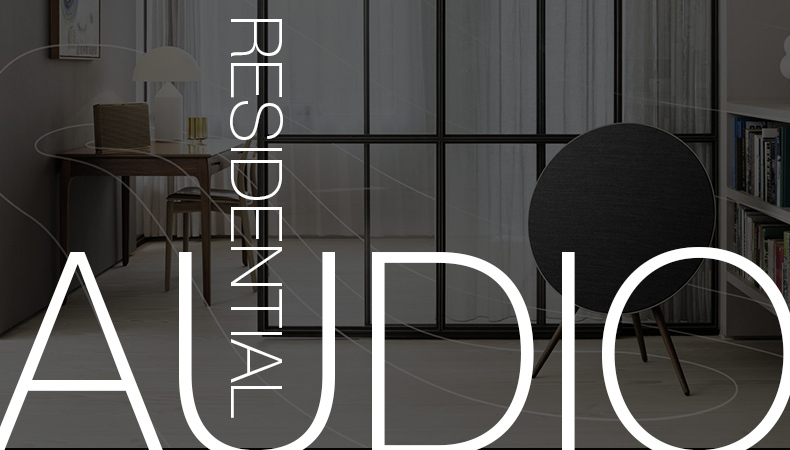 Think about some of the most important memories in your life. From your first kiss or wedding to your high school graduation or a favorite vacation, it's likely you attribute a specific song, album, or genre of music to each. You've likely been listening to Spotify while working from home and been transported to a distant memory when an old song plays unexpectedly on your playlist.
Music has the unique ability to evoke emotions, often more so than any of your other senses. It is something that most of us cannot live without and is an important source of joy and inspiration in our daily lives. While on the go, it's easy to sync up our AirPods and rock out to some of our favorite tunes. But when at home, we have the opportunity to really bring music to life. Through quality residential speakers, whole-home audio, and home cinema, we can create immersive audio experiences that either transport us to times past or keep us tuned into the present. 
Music fills our lives with moments of joy and has been a way to escape the challenges we have faced over the past two years. – John Couling, Dolby Laboratories
A daunting task
Bringing audio to your home can be a daunting task though. Sure, you can head over to the nearest electronics store and buy a few speakers and an amp. But without a game plan, you can easily overspend or purchase the wrong products. Audio can be one of the priciest areas of your home's technology. You want to get it right from the start. That means selecting the right residential speakers, subwoofers, receivers, and installing the right technology. 
In this guide, we'll take you through the most popular products we use in our smart home projects. We'll also discuss some of the most essential technologies being used in residential homes, and answer some of the most frequently asked questions we get from new clients. We've installed home theaters and home audio in homes from Boston to Reykjavik. Our team of acoustic experts can help you select the right products and install them correctly. 
Receivers
Your receiver is the core of your audio system. This is what receives your audio and video signals and distributes them to your speakers. The receiver is the hub of everything you're connecting, so choosing the right receiver is crucial to your audio system. There are dozens, if not hundreds of different receivers available on the market. We've gone into depth on two of our most commonly used devices installed in our smart homes. Important to note, if you're using a basic Sonos system, you won't need a receiver at all. This can be a pro or con, depending on what your needs are. Read on to learn more about this.
Savant
If audio is only one part of your larger smart home ecosystem, a Savant receiver may be the best pick for your home. The Savant IP Audio 50 is the cornerstone of the Savant audio system and supports up to six zones of audio (even more when combined with other units). With built-in amplification, distribution, control, and a music server connecting to Savant Music, the Savant IP Audio 50 brings smart tech to your audio. Using a Savant system, you can bring everything else in your home (lighting, window treatments, security) all under one umbrella of control and create zones in your home for audio paired with specific lighting scenes. 
Arcam
If you are looking for a more dedicated setup, specifically in a home theater, Arcam is the way to go. Their AVR30 receiver boasts a 16-channel surround sound system. It comes pre-packaged with all the latest technology from Dolby, IMAX, and more. One of the best features of Arcam receivers comes from their use of Dirac. Dirac is a calibration tool that listens to your room by sending out test signals through your audio system and loudspeakers. From this, measurements are taken of each room which can be used to optimize your speaker location and settings. 
Speakers and subwoofers
Speakers and subwoofers are among the most difficult to pick due to the sheer number of options available. Most audio companies offer dozens of different options, from in-wall solutions to floor standing or tower solutions. Before selecting your residential speakers, it's important to answer a few questions for each space you're adding audio to. 
1. What is the purpose of this space?
If you're adding audio to a kitchen area, discreet solutions are probably your best bet. In an area like this, you want your audio as minimally intrusive as possible. Conversely, if you're setting up a home studio or home theater (learn the difference between Home Theaters vs. Media Rooms), aesthetics may not matter as much as sound quality. Consider the purpose for each space before you go picking your products. 
2. What's my budget?
Equipping one room with audio can be quite expensive. Equipping your entire home is always a hefty price. Determine your budget for your entire home ahead of time, and try to break down this budget into rooms depending on how frequently you will use them. 
3. What system am I using?
Thanks to advances in technology, most homes today can utilize Audio over IP (more on that later) to bring sound to every room in your home. Before selecting your speakers, ensure that you've settled on an audio system (more on audio systems further down). This can help drive what speakers you select, making sure that they're all compatible and integrated with your Savant or Sonos system. 
To help you in the process, we'll walk you through some of the most frequently used residential speakers we install in homes and why you might pick each, depending on the purpose of each space. 
Amina
For those looking for a discreet solution, Amina is as hidden as you can get (in fact it's completely invisible). The original inventor of the invisible speaker, Amina creates loudspeakers and subwoofers that are hidden behind walls and ceilings. Their speakers are used across the world, from famous museums and extravagant hotels to luxury residences. Amina technology allows for seamless audio integration with zero visual impact. Utilizing VPT (Vibrational Panel Technology), Amina speakers use small vibrations to generate sound, eliminating any loss in quality despite being hidden behind drywall. These speakers are engineered to provide high-quality sound through a wide range of materials including drywall compound, plaster, stucco, wood, leather, laminates, and more. 
Notable Models: Edge5 Invisible Speakers and ALF Series Subwoofers
Artcoustic
If you're looking for a speaker to complement your home's design, Artcoustic has you covered. With a myriad of finishes and colors to choose from (even the option to have custom printed artwork) and a variety of stylish configurations, Artcoustic is raising the bar for speaker design. They're more than just a statement piece for your living room though. Artcoustic's sound is uncompromising, complementing any environment through a customizable modular format to guarantee uniform sound in every space.
B&O
Bang & Olufsen's speakers deliver a punch, both visually and in quality. Their residential speakers are designed to enhance and add to a design narrative, not blend or hide in the background. B&O's residential speakers are among the priciest on the market, and for good reason. Each speaker is individually tuned by hand and ear by one of their expert technicians to bring audio to life. Their Beolab series is perfect for a home theater, creating immersive cinematic experiences right in the comfort of your own home. If most of Bang & Olufsen's speakers are out of your price range, we recommend the BeoPlay line. BeoPlay is the entry-level, budget-friendly offering that still boasts serious quality. 
Notable Models: Beolab Series 
Leon
If you're a serious audiophile looking to hear your favorite band as clear as if they were performing in the same room as you, Leon might be a perfect choice. A company filled with artists and musicians, Leon turns their speakers into an art form. A culmination of acoustic engineering, world-class components, and expert craftsmanship, Leon residential speakers are perfect for any music room in your home. New in 2021, Leon has launched their SoundTile series that transforms a blank canvas into a custom piece of art /speaker combo that seamlessly integrates with a Sonos Amp, allowing your home's art to also deliver audio.

Notable Models: Ente SoundTile and Terra Outdoor Speakers
Learn more about Leon Speakers in our Introduction to Leon Speakers article!
Revel
Revel makes speakers and subwoofers for any situation. While they do make solutions for in-ceiling and architectural audio, we've found that Revel shines best with their Extreme Climate series. Built to withstand the harshest environmental conditions from hot and humid to cold and dry, Revel's Extreme Climate speakers can bring an audio experience to your outdoor scenery. We've used this solution in our Galactic Getaway project, installing subwoofers directly into a paddle tennis court. Even if you don't have a tennis court on your property, Revel's Extreme Climate can be used on a patio, poolside, or rooftop garden. 
Notable Models: L12XC Direct Burial Subwoofer
Savant – Artison
When people mention Savant, the first thing people think of is home automation. An industry leader in smart technology, Savant has been tying together disparate technology under one ecosystem for decades. Through a recent partnership with Artison, Savant now brings their own line of residential speakers to the table. The partnership between the two companies delivers premium entertainment solutions with seamless control from the Savant app. Most notable of their creations is the Artison Studio Soundbar. It offers amazing sound quality and contains a Savant host, meaning it can act as the hub for all the smart electronics in your home. 
Notable Models: Artison Studio Soundbar 
Sonance
Another match made in heaven is Sonance and Sonos. Sonos has been making amplifiers for years. They were one of the first to pave the way for multi-room wireless home audio. Sonance has been designing architecturally stunning residential speakers since 1983. In 2019, the two teamed up to create the first architectural speakers that bridge the ease of use and universality of Sonos with the audio quality and design of Sonance. The Sonos Architectural by Sonance speakers are in-wall and in-ceiling speakers that provide audio to multiple rooms across your residence (and even outdoors), all powered by a single Sonos amp. These speakers come with Trueplay, a Sonos software that measures how sound reflects off your walls, furnishings, and other surfaces to fine-tune your speakers, ensuring you hear sound the way it was meant to be heard.
Notable Models: Architectural by Sonance In-Ceiling Speakers
TDG
Founded in 2012 by long-time industry professionals, TDG (The DaVinci Group), creates some of the best residential speakers and amplifiers for home theaters available. Their revolutionary Skybar System pairs LCR and Satellite speakers for an immersive 7-channel setup with only three discreet boxes. This setup is perfect for people looking for a truly cinematic experience with minimal hardware. If you want a truly surround sound experience, additional satellite speakers can be added to the rear walls easily. Beyond their revolutionary Skybar System, TDG also makes in-wall speakers. They have great outdoor audio, making them a versatile audio solution for any home.
Notable Models: TDG Skybar System
Technology
Whole house network audio
Audio over IP has changed the game for your home audio. Audio over IP or AoIP is what allows you to put audio all over your home, playing the same songs at the same time from room to room. You can listen to a morning talk show in the kitchen, and walk into your living room without missing a word. This technology allows you to create multiple zones of audio and gives you complete flexibility over how you want to experience music in your home. 
There are many types of AoIP available including AVB (which requires a compatible network switch like Mark of the Unicorn) and Dante. Given the complexity of installing audio over your home network and creating multiple zones of audio, this is best left to the professionals. A professional audio integrator will determine which form of AoIP is best for your home and set up your network so that it has maximum coverage and is well protected from cyber threats. 
Audio Systems
Your audio system is what will contain all the apps and services providing your audio. You may prefer to listen to Spotify or Pandora, but these applications don't have devices of their own to stream music. Even if they did, you would be limited to one app for all your home's audio. By using an audio system, you can get audio from Spotify, Pandora, Apple Music, Amazon Music, iHeartRadio, and much more, without having to open each individual app to control what's playing. 
Sonos
If your home doesn't utilize other smart features like lighting and security, Sonos is probably your best bet. Sonos is very user-friendly and flexible. The Sonos app makes it easy to design your own audio system, setting groups of speakers into zones, choosing preferred music streaming services, and even setting automations for when music plays in your home. If you're looking for a simpler solution that doesn't require a professionally set up AoIP system, Sonos is a perfect choice. Their system easily connects to your existing Wifi, and their speakers are designed to connect to Wifi as well.
Savant
If you're interested in a smart home and don't want to open a different app for every feature in your life, Savant is the way to go. Savant's audio systems distribute high-quality audio over ethernet and are meant to scale dramatically from a few rooms up to an entire home. Savant's audio system is not meant to be installed by a homeowner, rather it is a professionally installed system by a smart home integrator. This is a good thing though, even for a tech-savvy homeowner. By partnering with an integrator you can ensure your system is set up exactly the way you want it, seamlessly integrated with your other home technology solutions like window treatments and lighting. Savant allows your automations to go beyond audio. With Savant, you can wake up each morning with your curtains opening, lighting on, and a favorite podcast playing. 
FAQs
Do I need a subwoofer in each zone?
This really depends on the purpose of each room. For home cinemas, media rooms, and music studios, a subwoofer is essential to experiencing the full range of what you're listening to. For the other areas of your home where you may be listening to music like your kitchen, bedroom, or living room, speakers will usually cover your needs. This is especially true with today's speakers. They have enough dynamic range to cover everything from the highest trebles to the lowest basses. 
How will my home cinema differ from other rooms?
Your home cinema is meant to be a space where you can immerse yourself fully into a cinematic experience. From an audio perspective, this means hearing every note from the soundtrack. Hearing every spoken line. Feeling every special effect. This is accomplished by installing a dedicated receiver and strategically placing speakers, creating a true spatial audio experience. Most movies, television, and even video games today are created with Dolby Atmos. Atmos is a surround sound technology that instructs your system on where to place different sounds. If a character fires a gun from the left, Dolby Atmos tells your left speaker to produce that sound on the left speaker.
Learn more about home theater by reading our article: The 3 Key Elements of a Home Theater 
Can I get a true home cinema experience from Airpods?
One of Apple's newest technologies is their creation of Spatial Audio, designed for their AirPods. This recreates the feeling of surround sound right in your own headphones. While this is great for listening to music on the go or watching a movie on your phone on the go, it doesn't quite replace the experience of a true home cinema. Your home cinema will have speakers fine-tuned to the specifics of your room, accommodating for room dimensions and wall materials. 
I have a 5.1 surround sound system, can you add speakers to it, or do I have to scrap everything?
This exact scenario is exactly why we love to use Arcam. Using an Arcam receiver, we can use a mix-and-match approach to your system. This allows us to utilize your current speakers, and add more speakers if needed, even from a different company. Using the Dirac technology mentioned above, we can measure and optimize your current system, bringing in more technology if needed. 
Have even more questions about residential speakers in your home? Please contact us at smart@tsp.space or visit our website www.tsp.space to speak to one of our home automation experts!
Further reading: Home Cybersecurity Importance