An Introduction to Leon Speakers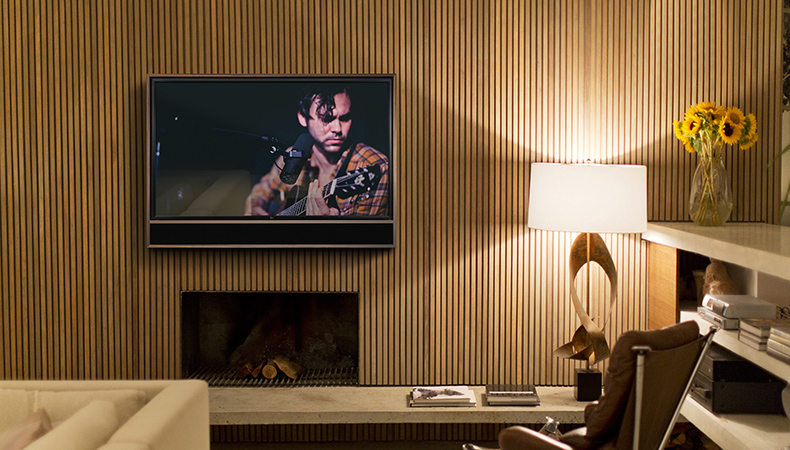 Custom audio solutions made for and by musicians and audiophiles. That's the focus of Leon Speakers.
Since opening only 24 years ago, Leon has grown from a small group of artists and musicians to a multi-million dollar business. While their team and product offerings have seen massive growth, their commitment to mixing art with technology has remained constant. After years of seeing impressive demonstrations of their products at various expos like CEDIA, TSP Smart Spaces became a seller of Leon speakers in 2021, adding their impressive product lines to our arsenal of audio solutions. 
About Leon
Many speaker companies approach their products from a technological background. Leon's approach is steeped in art and design. In 1997, Noah Kaplan (president and founder of Leon) combined his passion for art and music. He started a business building handcrafted guitars and speakers. Guitar building remained only a hobby. The speakers took off and helped transform Leon into a business with over 50 employees and a full range of audio solutions. 
Noah is a firm believer that art and music shape our culture and that a business is like a sculpture: a never-ending work in progress – leonspeakers.com
Noah's commitment to art and music has kept Leon plugged into musicians across the world. The Leon Loft is a dedicated performance space right upstairs from their shop and hosts some of the most talented musicians regularly for performances. Using all Leon audio, these performances not only showcase the full range of capabilities Leon offers but facilitates direct communication between performing artists and Leon. This feedback allows Leon to continue growing and improving their products.  
Commitment to design
As consumer demand for technology in the home increased, design took a backseat. Radios, TVs, speakers, and more were mass-produced to fit into any home and reduce cost as much as possible. Leon looks to change the game with a different approach. By creating a balance between design and technology, Leon relies on premium materials and craftsmanship. They draw inspiration from timeless designs of the past to create audio solutions with the same level of design as every other furnishing in your home. 
"Good design is as little design as possible. Less, but better – because it concentrates on the essential aspects, the products are not burdened with non-essentials. Back to purity, back to simplicity" – Dieter Rams
It is with this quote that Leon approaches design. Though, Leon only reaches simplicity in the final product. Each product goes through meticulous testing and tuning by a Leon audio engineer before it's sent out.
Residential solutions
Leon first made a name for themselves in 2001 with their Horizon custom-width soundbar. The ability to customize the width of your soundbar to match your TV was a first in the industry. It also set a precedent for how Leon would design their products going forward. All of Leon's audio solutions are customizable, able to match the size, color, and design of your home. This design focus is evident in their products like the Timbre Bookshelf speakers and their Terra outdoor solutions. Even today, their Horizon soundbars remain one of their most popular products. 
Leon's aesthetically flexible products allow us to specify beautiful sounding audio in most solutions where visual design takes priority. – Chase Rowe, Design Engineer at TSP Smart Spaces
Ente SoundTile and Sound Sculpture
One of the biggest steps towards design-led solutions is Leon's new Ente line. Powered by an industry-standard Sonos amp, the Ente line provides consumers a blank canvas to add their personality to any room in their home. These paintings or sculptures hide full-range stereo speakers behind a solid Baltic Birch frame. This allows you to choose from hundreds of artwork options sourced by Leon, or create your own. The Ente line is the closest fusion of art and music you'll find available for your home.
Conferencing solutions
Beyond the residential home, Leon creates solutions for commercial settings and conference room audio. By partnering with Logitech, Cisco, and Bose, Leon is helping to bring crystal-clear audio to conference rooms through their Horizon Interactive FIT soundbar which features customizable storage cabinets for AV, and designer grille fabrics to fit any corporate design. 
Relying on the speaker technology that got them started, Leon has repurposed their Horizon custom-width soundbar with customizable storage for other AV components like Apple TV, Logitech webcams, or even small amplifiers. A custom-fitted grille ensures everything is hidden and looks clean, while matching the existing design of your space. Leon has ensured that every AV solution can be integrated into their soundbar through their various partnerships.
Bring Leon to your space
While we've barely scratched the surface of all that Leon has to offer (stay tuned as we continue to highlight their solutions), we can't wait to begin integrating Leon's audio solutions into our smart homes. Blending technology and design is at the heart of everything we do at TSP Smart Spaces, and we're thrilled to add Leon Speakers to our arsenal of smart home solutions. Interested in bringing Leon to your residential home or conference room? Contact us today to speak to one of our smart home integration experts!