Buying a Home with an Existing Smart System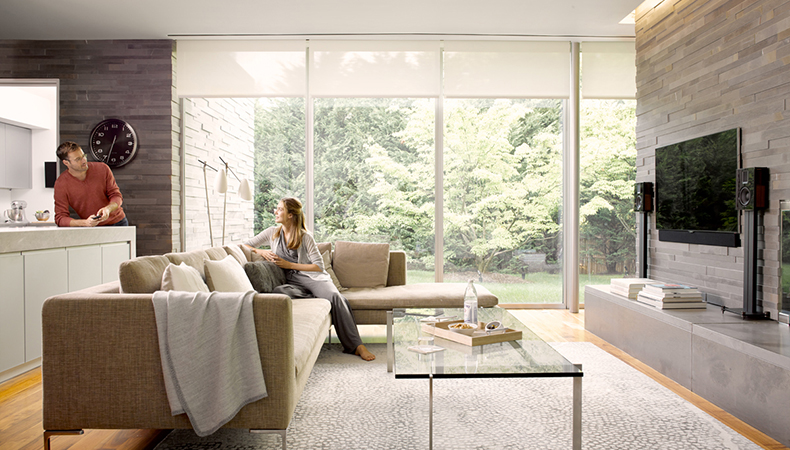 As smart home automation is becoming more standard, many people inherit existing smart systems when they buy a new home, rather than installing this technology into their home for the first time. These new owners were told by their real estate agent that their new home has smart technology. And they expect to be able to control everything from their lights to security, all from their phone or with voice control. 
Dreams of waking up each morning and having lights illuminate their rooms while the morning news begins playing automatically are quickly squashed as they realize their newly inherited system does not work exactly as intended. Half the lights turn on when they try to light up their living room, and installing their new TV and getting it working with the smart home system requires more than just plugging it in. They would love to set party scenes for having guests visit their beautiful new home but have no idea how to coordinate lighting, AV, and more. Frustration abounds, as they are unsure of how to fix the issues or where to turn to remedy the situation. 
If you've purchased a home with existing smart technology or any of the above sounds familiar, we've got you covered! We'll take you through what to expect about living with a smart home. If you're about to make the jump and buy a new home with technology built-in, here are some questions to ask before you move and how to find the right smart technology integrator. A properly maintained and well set-up smart home should make your life easier and more enjoyable, not add stress.
What to know about living with a smart system
Living in a smart home can be a truly amazing experience. When correctly set up, smart technology can make your life effortless and enriching. Automations can be set so that your home lives and breathes with you from the AV in your media room to the lighting and shades in your bedroom. While the benefits of a smart home system are worth every penny, it's easy to forget that your system needs to be maintained like any other part of your home.
Most people are aware of the maintenance and operating costs of their electrical system or plumbing. Just like these, your smart home needs to be budgeted for and paid attention to. Regular updates and new features need to be implemented, and as technology becomes obsolete, it needs to be replaced. These updates are important for more than just giving you the latest bells and whistles available. They work to keep your devices secure and keep your data safe every time they connect to the internet. By working with a smart home integrator, you can save money in the long run and prevent costly data breaches from occurring. 
Questions to ask the previous owner
Before moving in, try to get as much information from the previous owner as possible. If they don't have this information, see if they would be willing to put you in touch with the original integrator. Here are seven questions you should ask:
1. What kind of system is installed?
Knowing what system is currently controlling your home is your first step. Popular systems include Savant, Lutron, KNX, Crestron, and Control4. Knowing what system is already in place makes it easier to research your support options, warranties, and more.
2. Who installed the system?
Unless the home's previous owner was extremely tech-savvy, the smart home system was likely installed by a smart home integrator. If you can find out who installed the original system, you can reach out to them before move-in to see whether or not they still support their install, and what maintenance packages they offer. 
3. What has your experience been like with the system?
Understanding the previous owner's experience with their smart system gives you an idea of what you can expect in the years to come. You'll get a better idea of what typically goes wrong when it does. You'll also get tips and tricks for using the system efficiently and enjoyably. 
4. When was the system installed? 
This is a critical date to know. The older the system, the more likely you'll need to have significant work done in the near future to keep it operational and up to date. Smart technology is rapidly evolving. A system that's five years old or more might need updates to work with the latest home technology standards like HomeKit or Google Home.
5. When was the last time the system has had maintenance performed or had an upgrade?
As a follow-up to asking when the original system was installed, try to find out when the last time the system was maintained. If it's been a few years, there are likely plenty of software updates that need to be performed. Not only does this impact user experience, but connecting to the internet on outdated devices can be an extreme risk to your cybersecurity. 
Check out our blog on home cybersecurity to learn more about the importance of keeping your devices updated!
6. Do you have records of the warranties for any of the products/technologies?
Ask for a record of any warranties or receipts of the products purchased. This is important as most smart home technology is protected for at least a few years after installation. A particular speaker or lighting control might have gone unfixed by the homeowner for months. If you have the receipts and the product is under warranty, this can save you thousands of dollars. 
Above all other questions, ask the previous homeowner to introduce you to the smart home integrator who originally installed the system. Even if you don't end up using them while you own the home, they should be able to provide you with all the documentation you might need. The integrator should also be able to provide you with the schematic design for your reference. Read more about how this is one of the most essential parts of your smart home in our previous article here.
Finding the right integrator 
Sometimes the original integrator has gone out of business or the system is too old for them to support. Given this, you're left with the often difficult task of finding an integrator who can update your current system. When looking for an integrator, pay attention to the following:
1. Support services
The right integrator for you will be there when you need them. You want to find a partner that can diagnose and fix issues quickly, often before you even notice something is wrong. When looking for the right integrator, pay attention to their smart home support services. Consider their onsite response time, regular checkups, as well as their ability to change and support your system remotely. Often, small issues can be resolved without the need for a physical visit. 
2. Diversity of expertise
In your search for the right smart home integrator, you'll likely come across companies that specialize in one particular area. The obvious problem with these companies is that while they might have extensive experience in one area of your system, such as AV or security, they often struggle to support all aspects of your smart home. Even if your inherited system is primarily utilizing only one type of product, by partnering with an integrator who works in a diverse range of products and services, you can upgrade in the future without needing to bring in yet another company. 
3. Certifications
Certifications are the number one way to know whether you can trust a smart home integrator or not. Companies like HTA (the Home Technology Assocation) and Cedia highlight the most trusted integrators in the industry and only certify or allow membership for businesses that have proven themselves in the home automation industry. Pay attention to what certifications each integrator on your list has and see if they partner with reputable technology companies such as Lutron and Savant. To really ensure your integrator is up for the task, see what level of certification they have for each. With HTA, there are three levels of certification; Foundation, Luxury, and Estate. These levels are designed to help homeowners find the right fit for their smart home based on budget, complexity and scale. To learn more about what is required to qualify for each level of certification, visit HTA's website.
The TSP difference
Smart home support
If you're looking for a home automation integrator for your new smart home, TSP Smart Spaces is the perfect fit. We stand behind every smart home we've built, no matter how old it is or whether it's changed ownership. Our proven smart home support services ensure that your smart home is always updated with the latest patches and updates. Backed by our strong history of IT support, your home is maintained with the highest standards and is built with a robust and secure network. 
An eye on the future
When we install technology in our smart homes, we do it with the future in mind. It's a fact of life that technology ages quicker than bricks and mortar. But that doesn't mean that your home's technology is obsolete in a few years. We try to curate the products and brands which will last for many years to come, providing long-term value. When the time comes to replace some of your technology, we try to make sure that the wiring and infrastructure is in place so that changes can be made with the least amount of cost and inconvenience.
Collaboration at every step
Collaboration is at the heart of everything we do. A smart home should be a cohesive effort between you, your technology integrator, and the build team behind your home. We have a long history of partnering with architects, designers, and custom builders to bring our client's visions to life. We integrate technology in a way that is impactful in their lives, yet discreet and unobtrusive to the overall design. 
Humanizing technology
Smart home technology is meant to be an extension of your lifestyle. At TSP Smart Spaces, we steer far away from cookie-cutter solutions and strive to build your smart home in a way that is unique to your specific vision of what you imagine your home to be. With our tried and true design, build, support process, we sit down with each client and explain everything. From the budget and timelines to the actual technology installed, we build lasting relationships for enduring smart homes. Contact us to begin your smart home journey or for advice on your new home with home technology!
Further reading: DIY Smart Home Solutions vs. Professional Integration, Benefits of Smart Lighting
---
---