10.06.2021
TSP Smart Spaces Wins at the 2021 CEDIA Awards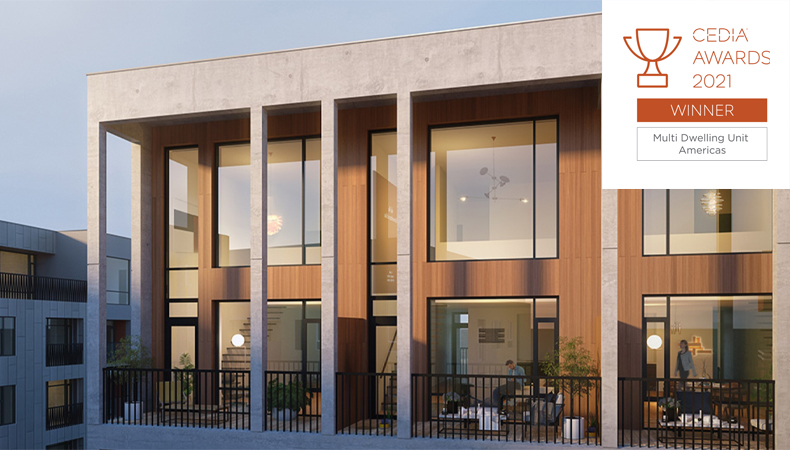 At the 2021 CEDIA Awards, TSP Smart Spaces has won for Best Multiple Dwelling Unit Design!
"This year's projects embody CEDIA's forward-thinking spirit and the utmost excellence the smart home industry has to offer," said CEDIA Global President and CEO Daryl Friedman. "To bear witness to these projects is an honor in itself, but it's even more exciting to be able to congratulate the winners in person at CEDIA Expo."
We were honored to be counted among the winning projects at this year's CEDIA awards. Our Austurhöfn project, which we've dubbed Condos with an IQ, represents the best in smart home technology. Every unit comes with a base smart home package, complete with the foundation to expand to each homeowner's unique lifestyle and interests.
Best Multiple Dwelling Unit Design – CEDIA Awards
Austurhöfn Smart Apartments
Located in Reykjavik's historic Old Harbor, Austurhöfn offers more than 70 classically-designed smart apartments. Featuring sweeping views of the bay and the center of Iceland's capital city, Austurhöfn sets a new standard of luxury living. Every unit features cabinetry, appliances, and fittings from renowned European manufacturers. To distinguish Austurhöfn as a staple in upscale homes, the developers brought customization to a whole new level accommodating the diverse range of needs and lifestyles seen in potential homebuyers.
In 2019, we at TSP Smart Spaces were approached to establish smart technology solutions for their new luxury condominiums. What occurred was an exciting collaboration between multiple teams spanning across the US, UK, and Iceland to provide a myriad of smart apartment packages and options for potential buyers.
About CEDIA
CEDIA, the global industry association and central touch point for residential technology, provides members with cutting-edge education, develops standards to ensure the highest levels of professionalism, and is the industry's only certifying body. CEDIA furthers collaboration with architects, designers, builders, and homeowners to deliver technology solutions that allow families to experience their best moments in life in the comfort of their own homes.
Want to learn more about how we bring smart home technology to commercial and MDU buildings?  Feeling inspired for your own smart home? Contact us today to get started building the space of your dreams. 
---
---