Does Your Conference Room AV Project Need an Acoustic Consultant?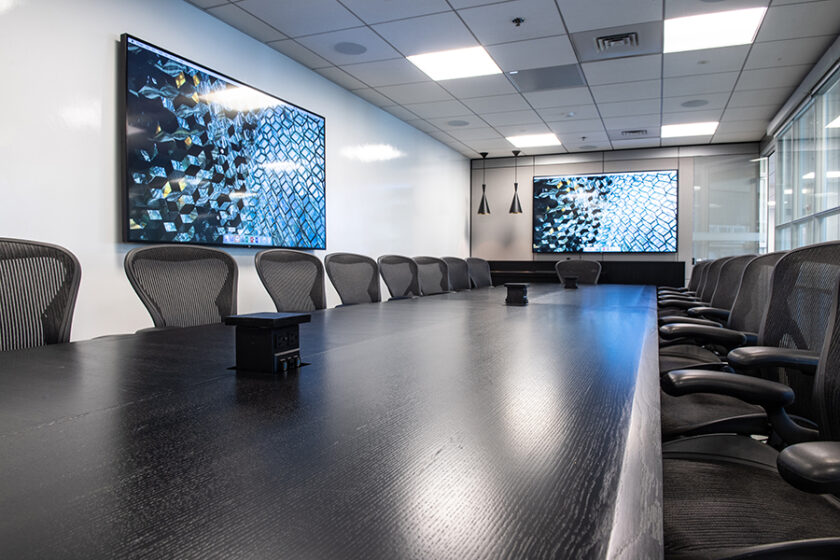 Hey! You got a shiny, new AV system for your conference room—congratulations! One week later, though, you realize it "works," but the sound is reverberating all over the place and neighboring offices are complaining of the noise. You need an acoustic consultant.
If you're familiar with this scenario, take comfort in knowing it's not an uncommon one. For example, a major tech company recently completed significant audio and video upgrades to dozens of conferencing spaces in their headquarters. They budgeted for and received some stellar conference room AV solutions. What they and, more pointedly, their contractors missed was factoring the environment itself into the proposed solution. Enter TSP Smart Spaces.
It takes two
The major variables in play when assessing AV-related sound and design are a space's actual acoustics. The physical properties or qualities that make up a space and affect how we hear sound; and sound control, the intentional attempt to alter and manage sound. In concrete terms, acoustics are features of the room such as dimensions and building materials. Sound control, on the other hand, includes technology (mics, speakers, white noise), as well as decorative elements like wall tiles or panels. And if you think about it, understanding the interplay between sound and materials is exactly the expertise of an acoustic consultant.
What tends to make today's conference rooms a particular challenge is that they're typically large boxes filled with lots of hard and flat surfaces. In the case of our new client, we were also dealing with considerable swaths of glass—a hard surface that does little to retain sound on its own. Several of the conference rooms were also centrally located within the office, which is great for accessibility but horrible for noise mitigation. For acoustic consultants and AV teams, the trick really comes down to keeping inside noise managed within the space, and keeping outside noises out.
Next-level acoustic consultant solutions
Our client's conference rooms had standard acoustic ceiling tiles, carpeting of some nature, and even upholstered chairs. However, these tools weren't enough on their own to combat the plethora of hard flat surfaces. In the case of drop ceilings, despite the acoustic tiles they're assembled with, this solution is notoriously poor at containing sound when voices float over partition walls.
TSP approaches all conference room AV and office projects from a holistic perspective. Aside from specifying the best technical conferencing solutions we know, our methodology includes an assumption that there will be some requirement for acoustic treatments.
Questions we ask when trying to assess conference room needs include:
How often is AV conferencing used?
How close are the nearest offices or work stations? Are those folks generally in the room during meetings?
What are the top complaints heard from participants on the other end of calls or meetings?
Are there business and productivity implications of disruptions?
What are the privacy considerations for folks both inside and outside the room?
The earlier those questions are answered, the easier it will be to design rooms that meet the needs of the organization.
"The best time to bring in acoustic consultants for your AV project is when you decide it's time to begin an AV project. The second best time is today." Aaron Stallings, Director of TSP Smart Spaces
For an average conference room, acoustic requirements could entail:
Although not a frequent requirement in offices, soundproofing or blocking might be of value when privacy is a top priority or if high-quality recordings are a must.
Budget early and often
As with any project, rework can become an expensive problem. Because our conference room AV client brought us in after the fact, our solutions focused on minimal reconstruction. We worked to control the cost implications, but ultimately acoustic corrections could add about 30% to the original budget.
Upgrading your conference room AV capabilities is an exciting project, and it's easy to get swept up in shiny, new technology. Ensuring you have an experienced acoustic consultant—not just tech integrators—on your team will reduce unforeseen problems down the road.
Ready to transform your conference room? Begin your journey today by contacting our AV integration team, a leader in home automation in Boston.
---
---
Further reading: Maximum Minimalism – AV Conference Room Solutions