11.01.2021
TSP Smart Spaces Wins Twice at the BRAGB 2021 PRISM Awards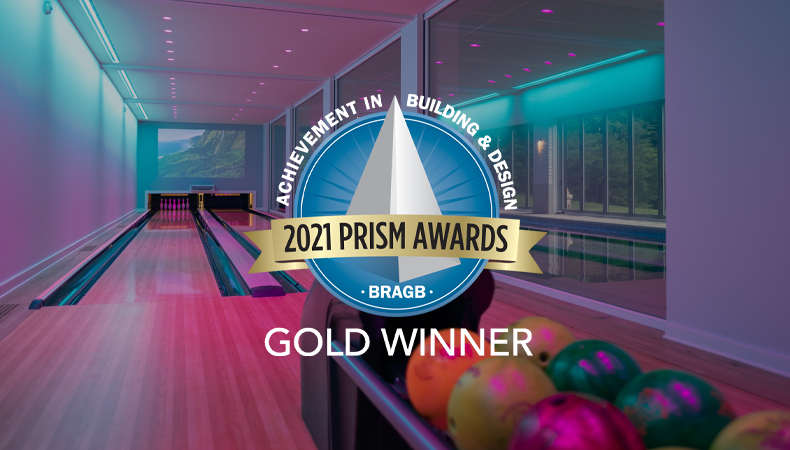 Winning a coveted PRISM Award is a sign of excellence in your field and recognition of superior achievement. – BRAGB
We are beyond thrilled to have won two awards for the second year in a row at the BRAGB 2021 PRISM Awards! Hosted yearly by the Builder and Remodelers Association of Greater Boston (BRAGB), the PRISM Awards recognize the finest projects and outstanding achievements of professionals in the home building industry. This year TSP Smart Spaces won a Gold award for our Galactic Getaway project. We also won Silver for our case study brochure series that features this project and others such as our Art Deco Mansion project.
---
Best Use of Smart Home Technology – 2021 PRISM Award Gold
Galactic Getaway
With an indoor pool, bowling alley, and paddle tennis courts, this stunning home addition was a rare opportunity to curate elements front and center and to the entertainment experience that also blended beautifully with the vision of the space. The result is a unique application of home automation that is entertaining for everyone. 
To make this addition work as a hub of family entertainment, we took the vision of the interior designer (Manuel de Santaren). We conceptualized a space where technology would be both visible and invisible, depending on its function. The complex features stunning lighting scenes from Ketra, invisible speaker solutions from Amina, custom shades from Lutron, and galactic scenes programmed with Savant. This entertainment complex creates a visually and functionally seamless smart home experience. 
---
Best Print Brochure: Community, Builder, or Associate – 2021 PRISM Award Silver
Case Study Brochure Series
Coordinating potential clients and design/build partners onsite to see our work in person has always been challenging, even more so in the last year. To highlight these projects for everyone to see, we developed a smart home case study series featuring some of our most impressive projects. Our Director of Marketing and design expert, Kjerstin Oh, curated images that would both highlight these projects as well as leave room for our branding, especially on the cover page.
Digital Marketing Specialist and content writer Nathan Smith wrote the literary elements, pared down from our robust case studies seen in our smart home projects. With limited space, it was important to concisely explain the important aspects of each project and highlight the technology in each project in a way that was easily digestible for readers.
Inspired by what you see here and want to bring this technology into your own home? Learn more about our smart home automation and residential services. Contact us today to begin your smart home journey!
---
---