05.21.2021
Connected Design: Seamless Integration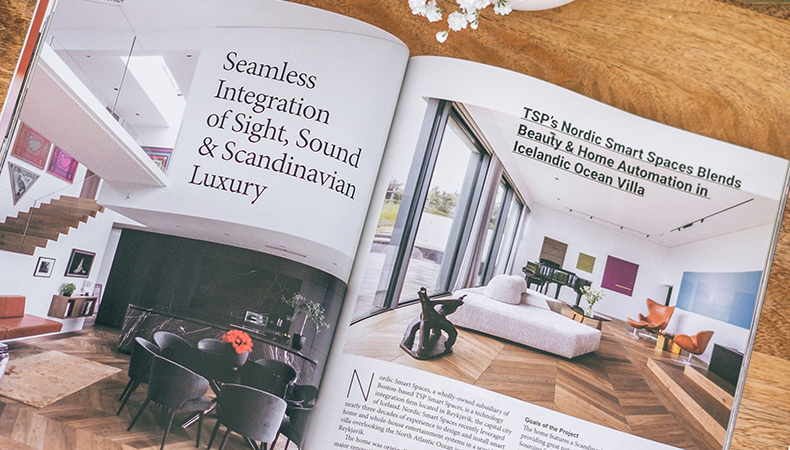 Seamless Integration of Sight, Sound & Scandinavian Luxury
Read an excerpt from the 'Seamless Integration' article below:
Nordic Smart Spaces, a subsidiary of Boston-based TSP Smart Spaces, is a technology integration firm located in Reykjavik, the capital city of Iceland. Nordic Smart Spaces recently leveraged nearly three decades of experience to design and install smart home and whole-house entertainment systems in a seaside villa overlooking the North Atlantic Ocean just outside of Reykjavik.
The home was originally built in 2006 but went under major renovations in 2016 when the home came under new ownership. The new owner remodeled the entire layout of the home, which included cutting down concrete walls, rewiring all of the electrical paths and changing the plumbing.
"This is not a massive luxury mansion like you would expect to see in the Hamptons," explained TSP Smart Spaces President Michael Oh. "But this seaside villa was designed and built with tremendous attention paid to every detail, with particular focus on the interior of the home."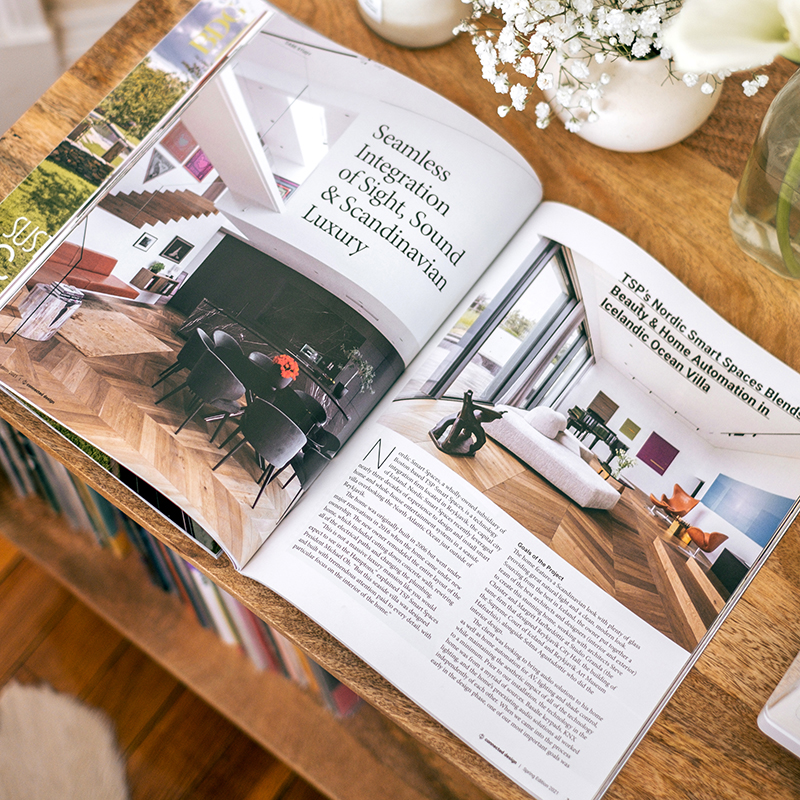 Goals of the Project
The home features a Scandinavian look with plenty of glass providing great natural light and a clean, modern look. Sourcing from the best in Iceland, the owner put together a team of the best architects and designers (interior and exterior) to create this stunning home. Working with architects Steve Christer and Margrét Harðardóttir at Studio Granda (the same firm that designed Reykjavík City Hall, the building of the Supreme Court of Iceland and Reykjavík Art Museum Hafnarhús), alongside Selma Agustsdottir who did the interior design.
The client was looking to bring audio solutions to his home as well as home automation for AV, lighting and shade control, while maintaining the aesthetic impact of all of the technology to a minimum. Prior to our installation, the technology in the home was from a myriad of sources. Basalte keypads, KNX lighting, and the home's preexisting audio solutions all worked independently of each other. We came into the process early in the design phase. One of our most important goals was integrating all of the smart technology in the home under one integrated control system.
Seamless Design
The ocean villa was outfitted with the finest furnishings and appointments, including over 20 motorized shades and custom draperies. Featuring floor-to-ceiling glass throughout much of the living space, the villa became something of a cocoon from the wild weather rolling in along the Icelandic coastline.
To accommodate the homeowner's desire for seamless design throughout the interior, the Nordic Smart Spaces team deployed 20 Amina Edge5 ultimate-performance invisible loudspeakers complemented by five Amina ALF architectural subwoofers (four ALF120s and a single ALF80). This created a high-resolution, full-range entertainment system with zero impact on décor. The Edge5 speakers were utilized in the open-plan living space that includes a living room, dining room and kitchen. They were also deployed in each of the bedrooms and the study.