Want a secure smart home? We've got you covered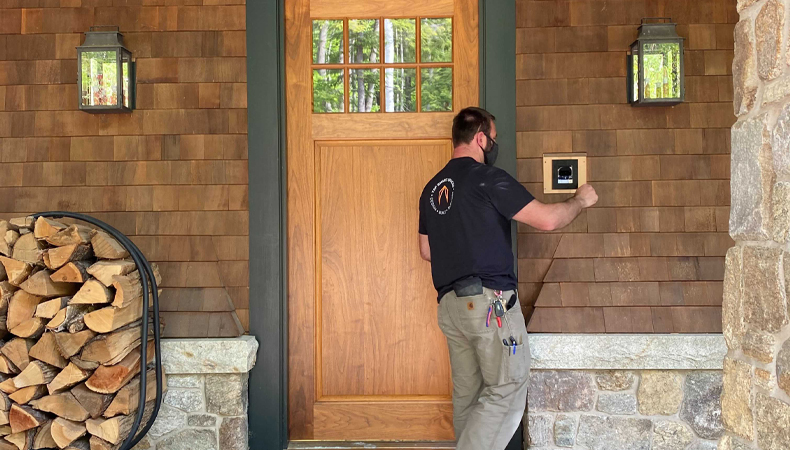 If you own a house or are in the process of designing or building one, smart home technology is quickly becoming a must-have. There's a lot to like about smart home solutions; it allows you to instantly turn on your living room TV with your voice, warm or cool your bedroom at night, and more. Yet physical security sometimes gets lost in the shuffle. Despite the fact that you can use smart home security to protect your space like never before.
The technology available
There is no shortage of DIY smart devices at your disposal. If you head to your local Best Buy, you'll find a whole assortment of Ring doorbells and other connected devices. But, as we've mentioned before, there's a big difference in results with DIY vs. working with a smart home integrator. So what technology can a smart home integrator bring to your smart home security system?
1. Entry systems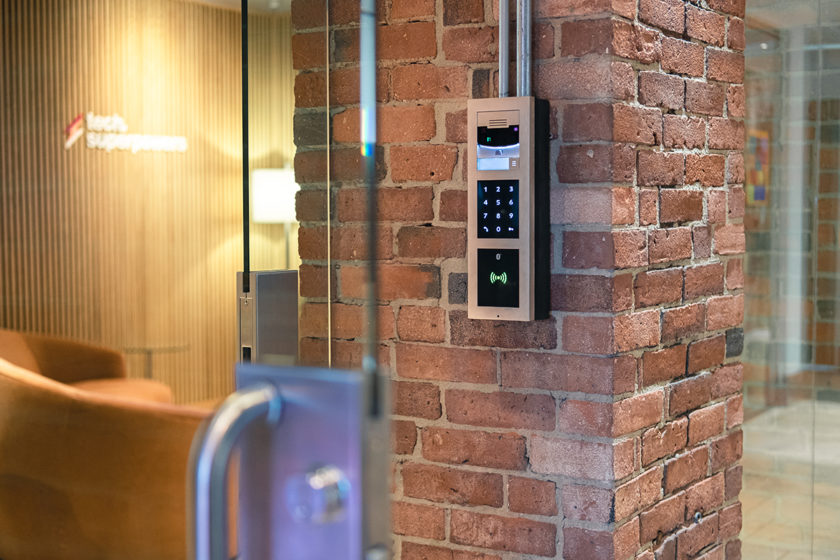 This is the big area where professional, smart home solutions exceed DIY solutions. A good entry system allows you to see who is attempting to enter your residence and also lets you customize how people enter your home. Whether by key fob, voice activation, code, facial recognition, or via your phone. In a larger residence, you might have quite a few different people entering your home; extended family, maintenance crews, cleaning professionals, and childcare services. With a smart entry system, you can control who has access to specific areas of your home, limit access hours for non-residents, and keep a record of who entered and when. This is huge for your safety and keeping a record in case of theft or damage.
2N IP Verso
At TSP, our go-to solutions come from 2N, specifically their IP Verso security intercom and access control. The IP Verso is a modular security intercom that is incredibly customizable. Each unit can fit up to three modules (each module is a different way to access). These can include a fingerprint reader, Bluetooth module, touch display, and more. The IP Verso lets you access your space the way you want to access it. Another great thing about 2N solutions is how easily they integrate with 3rd party apps, like Savant. Being able to control your entire smart home from one single app can save you time and lets you synchronize your security system with your lighting control, shades, and more.
2. Surveillance cameras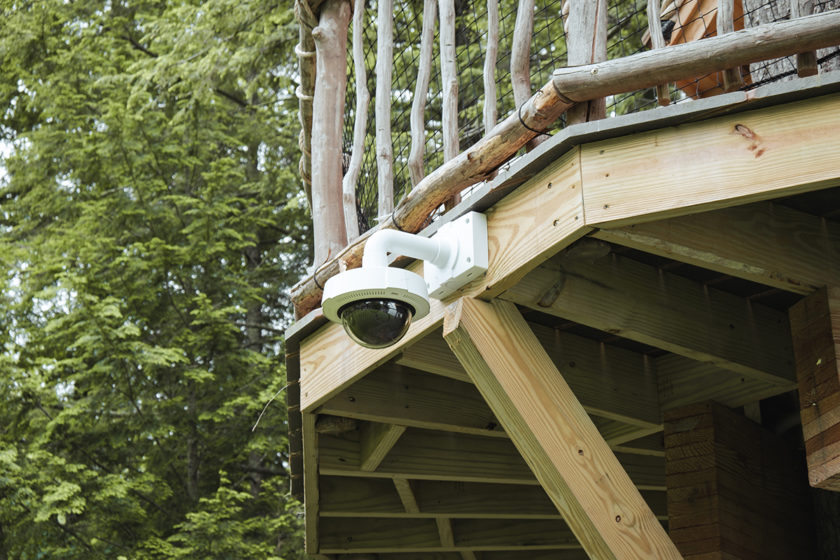 Walk into any big box retailer and there are numerous brand all offering what is seemingly the exact same camera. But look at the ceiling of consumer electronics stores and warehouse chains and you will notice in each aisle a white dome camera that is larger than the average consumer camera. Let that sink in for a moment… These companies do not even use the type of cameras they are selling to the public, and there is a good reason why. DIY surveillance cameras cut a lot of corners to keep their prices down, most often in image quality, night vision quality, and integration with a larger security system. If your camera only works during the daytime, or doesn't integrate into a larger security system, it really becomes pretty useless.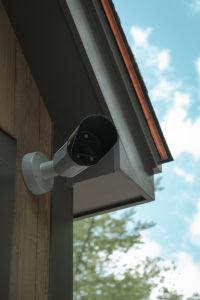 Axis cameras
Our go-to solution for years has been Axis cameras. They make commercial-grade security cameras integrated with just about every function you could need in a camera. You might think commercial-grade cameras are overkill for a residential setting, but we like to think you can't overpay for good security to keep you safe. One of the biggest benefits to Axis cameras (beyond superior image quality and night vision/thermal imaging for both indoor and outdoor security cameras) are the built-in cybersecurity features. Every Axis camera offers various features to counter cyber-attacks, eliminate vulnerabilities, and prevent unauthorized access to your system. The software is built to detect firmware tampering and prevent device replacement, authenticating all devices regularly so you know your camera is untampered with.
3. Motion/break sensors
Security cameras a great way to keep an eye on your property and home, but door and window sensors take it to the next level. Not only is it very difficult to get full coverage of every angle of your property with security cameras, but your cameras also won't alert you if a window breaks from inclement weather or natural causes. This is where motion and break sensors come in. These sensors can be installed on windows, doors, or areas prone to flooding, alerting you the moment something happens on your property. Perhaps some local wildlife made it's way into your home while you're on vacation, or a plumbing line broke and is flooding your server room. Motion and break sensors will alert you and your security company immediately, often preventing damage before it becomes expensive or costly.
How can a smart home integrator help?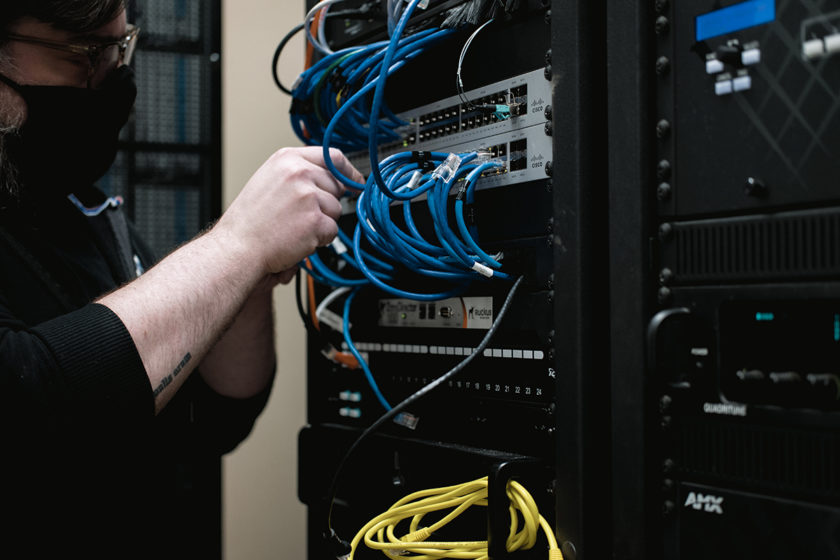 A tech-savvy homeowner might be able to get an entry system installed or get a few cameras running. But where a smart home integrator is going to make the biggest difference is in coverage. Not just designing camera placements so that every part of your home is covered but seamlessly integrating your cameras, access control, and motion/break sensors to work cohesively together with your smart home system. This means when your motion sensor is triggered, you get a notification on your phone that pulls up the security camera for that location while also giving you a list of who has accessed that area of your home during that period. If you travel often or have vacation homes, you want to ensure you get the security system correctly installed. When you're thousands of miles away, you want to know that your home is just as you left it.
Why do I still need an alarm systems company?
While a smart home integrator will design your smart security system, provide professional installation, and even perform maintenance and support on the technology, they're not an alarm company. No matter the level of security you want in your home, partnering with home security providers is crucial to your security. Not only do alarm companies provide remote surveillance solutions, professional monitoring and install fire and burglar alarms, but they are available 24/7 to alert authorities within seconds during a home intrusion or when a fire is detected. We work directly with them and licensed electricians to design and install your security system, ensuring it works the way you need it to from day one.
The digital side of security
With physical security systems covered, we'd be remiss if we didn't mention the importance of digital security. We've extensively covered the importance of cybersecurity in your home, but we couldn't talk about security without bringing up the digital side. After all, you can't have one without the other. Without a robust cybersecurity system in your home, your smart home security system is just like any other unprotected smart devices, vulnerable to threats and hacking. Every time smart home devices connect to the internet, it's at risk of a cyber attack. And smart home security devices stay online 24/7, making them a big target for hackers.
This is another reason to work with a smart home integrator. The right one will have networking and cybersecurity experience to ensure your smart home security system is functioning properly, and not prone to cyber attacks. With a good smart integrator, physical security and cybersecurity go hand-in-hand.
Preventing cyberattacks
There is no perfect defense to prevent a home cyberattack. But, there are many things that you can do to guard against a smart home cyberattack, including:
Work with trusted vendors and integrators – Deploy smart home devices from companies with a proven track record. And remember, just because a smart home device is the most popular on Amazon doesn't necessarily mean it's secure. How can you tell if your smart home integrator is qualified? Look for their credentials. A good one is going to have various industry certifications such as an HTA (Home Technology Association) certification and be members of home technology organizations such as CEDIA.
Leverage two-way authentication – Verify the authenticity of any smart home device connected to your network before it receives or transmits data. Don't forget to use robust passwords and two-factor authentication (2FA) to secure your smart home devices, too. According to Microsoft, 2FA prevents up to 99.9% of brute force attacks on your devices.
Segment your network – Assess your smart home devices and data, then segment your network based on risk and use. VLANs (virtual local area networks) allow you to break up your home network into segments. This puts your smart devices on a separate network from your work or personal devices. This lets you minimize and contain damages if a cyberattack does hit your network.
The above tactics are all possible to do yourself. But they are best left in the hands of a professional smart home integrator with cybersecurity experience.
Let's chat if you're ready to take the next steps and step up your security game! Even if you're not sure what you want the security system to look like in your home, we'd be happy to give you some ideas. We'll show you some previous smart home security systems we've installed, and help you start planning your space.