Next Generation Design Tools: 360 Imaging, VR, and Video Game Tech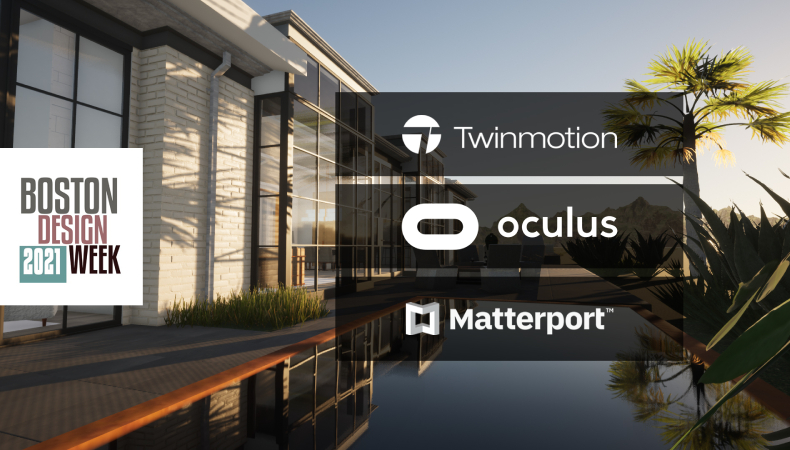 On April 30, 2021 TSP hosted a live webinar where we took a look towards the future to see how next generation design technology is changing how architects and designers bring their visions to life. Did you miss our live event? Check out a recording of our 60-minute virtual demonstration of the latest from TwinMotion, Modus VR, and Matterport. 
---
About this Event
---
Next Generation Design Tools: 360 Imaging, VR, and Video Game Tech
Friday, April 30, 2021
10:30AM – 11:30 AM EDT
Panelists:
Michael Oh, President
Aaron Stallings, Director of Smart Spaces
Adam Fisk, Director of IT Services
---
New waves of technologies are crashing on our shores with increasing frequency. In this 60-minute virtual session and demo, the technology professionals at TSP Smart Spaces showed you how they use some of the most recent developments in 360 imaging, VR, and video gaming to revolutionize the design process, as well as the client experience.
Most importantly, we demonstrated that utilizing these technologies does not need any massive amount of investment or a dedicated R&D space. Not only is the technology moving at warp speed, but the tools that leverage these technologies are becoming more cost effective.
Low Cost 360° Capture of Real Spaces
Matterport has become the de-facto method of capturing 360 spaces for real estate sales and rentals. During the pandemic, it's also become a way of visiting museums and unique spaces that are currently inaccessible. However, it's frequently overlooked as a tool for designers and architects. TSP Smart Spaces uses it to capture job sites before, during, and after multiple phases of the construction process, labeling wires, technology elements, and unusual items of note that would otherwise be hidden behind walls forever.
We walked through the process of capturing a space and showed not only how it can be used to help our own engineers during the process, but also how it helps electricians, plumbers, and the GC during – and especially after – the build.
Real-Time Engines in Architectural Visualization
The next level for TSP Smart Spaces is to be able to use these tools with spaces that do not yet exist. This is where technologies like Epic Games' Twinmotion come into play.
We all know the natural cadence of a client design meeting. Designs are developed. Hours, even days, of rendering are spent trying to visualize a space. Then once the meeting happens, within 10 minutes, the client requests a new view, time of day, or a material that hasn't been rendered. You have to go back to the drawing board, waiting until the next meeting to show them that iteration.
Epic's TwinMotion comes from the video gaming world. The "client" is a teenager who wants their experience rendered not in minutes or days, but in 1/60th of a second. As gameplay changes the environment and the scene, and things are literally blowing up around you, the visuals must keep up with the player's imaginations.
Architects have not been ignoring these trends either. "A survey by CGarchitect last year found that of respondents who are testing out rendering engines, 43% are experimenting with Unreal Engine, and 22% are trying out Twinmotion."
We show how these technologies work in real-time by demonstrating how you can import files directly from CAD into Twinmotion, how materials and textures are applied, and then how you can simulate indoor and outdoor lighting, weather, and seasonally, all in a matter of seconds.
Virtual Reality
Finally, we tackle the final frontier of AEC visualization – Virtual Reality. For years, the promise of VR technology has never quite hit its stride, and 2020 is no exception. Many architects' VR lounges – complete with expensive hardware – have gone unused for a year, ironically being rendered useless by a pandemic where everything else "virtual" has taken off.
But behind the scenes, VR developers have been creating new experiences that take a new approach – focusing on collaboration and interaction using hardware that is widely accessible. Using a basic gaming PC and the Oculus Quest 2 (a $299 VR headset), we will show one of the most innovative VR design platforms in development, calledModus VR, which shows the true potential of VR technology being applied to AV technology design.
Convergence
TSP Smart Spaces ended our talk by mapping out how these technologies will progress in the next couple of years.
Firms that have been able to master these new trends will be the big winners going forward, and that transition will be swift. We've already heard of projects that were won and lost on the mastery of these new technologies, and this is just the tip of the iceberg. We believe as 360 imaging, VR, and real-time rendering converge, there will be a new generation of tools that will define a new generation of architects and designers. Find out what it takes to be one of them!
This event has passed. Visit the link below to view a recording of our webinar!